Novels by Rosalyn Chissick
Catching Shellfish between the Tides
Sceptre, hardback £12.99/ paperback £6.99
'Magda stood in a shop doorway, pushing her fists hard against the frame. Thirty seconds, twenty-nine, twenty-eight. Magda's whole body was a knot, squeezed tight, and when she ran into the middle of the street her arms floated up and out from the sides of her body as if they were wings. Again Magda did it. Again and again. For the feel of it. The magical unstoppable feel of her arms lighter than air'.
'We are always searching for a love, Magda's mother said. Whatever else we call it.'
'Magda didn't know if she agreed. She had seen her mother happy with a love and unhappy with it. Magda wondered whether happiness was the right barometer with which to measure your life. And if not, what else was there?'
A winner of prizes before it was published, Catching Shellfish Between the Tides is a hauntingly vivid, lyrical and sensual first novel about the history and dreams of a young woman and the vital role that storytelling plays in all our lives.
Stories change lives. That is their purpose.
'An assured graceful debut.' Helen Dunmore
'Chissick's achievement is to create strong, memorable characters…' – The Independent on Sunday
colourbook
Sceptre, hardback £10.00/paperback £7.99
'Of course a sister is going to love a brother. But there is something else. He can't find the word for it – an edginess that sits between them, it is like still air before the beating of wings, like the millisecond before an explosion.'
In spare yet emotionally charged prose, Rosalyn Chissick charts a relationship that challenge's society's boundaries and conventions. A shocking, poignant and poetic novel by a prize-winning writer.
'colourbook is a work of some definite literary significance. '  The Times
'Occasionally a novel is so absorbing that it makes your world stand still. Rosalyn Chissick's latest offering, colourbook, does just that.'The Big Issue
'Written in extremely accessibly but very sparse prose, Rosalyn Chissick's second novel is as haunting, thrilling and memorable as her first…An unforgettable book.' Shine
Short stories by Rosalyn Chissick
It Must Be Love
Penguin Books
A short story, Magda's Mother's Lovers, taken from Catching Shellfish between the Tides.
Winning Entries in the Waterstone's/Terrence Higgins Trust Short Story Competition. Introduced by Martin Clunes, Chairman of the judging panel, which also included George Melly, Nicola Barker, Liz Halsall and Gorden Kerr. All proceeds from the sale of this book went directly to the Terrence Higgins Trust, a charity working to help anyone affected by HIV and AIDS.
Girls' Night In
HarperCollins/War Child, £5.99
A short story, Caravan, published in a collection by 'the very best and brightest women writers around' (the original Litchicks).
Published to raise funds for War Child to build playgrounds in the Balkans where children could be safe from the threat of landmines and to fund an educational programme in Rwanda.
Poetry by Rosalyn Chissick
Proof 8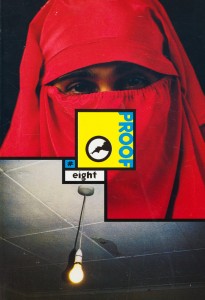 White Horse Press
Features a selection of Rosalyn's poems and the prize-winning work of writers and photographers living and working in the South West.
The work was selected by a panel including representatives from publishers, educational establishments and arts organisations operating in the South West and South West Arts, the official public body for the arts in the South West.
Designed to introduce challenging work to new audiences, Proof was a major publishing initiative by South West Arts.
The Bristol Poetry Slam Anthology 
Pimp$ of the Alphab£t Press
The stage on the page
"….makes the Booker Prize judgements look like an exercise in watching toenails grow."
The Independent
The Bristol Poetry Slam was declared 'the best poetry slam in Europe' at the Cheltenham Festival of Literature
'The first poetry anthology of its kind to be published in Britain, it covers the complete three year history of the mighty Bristol Slam. It is a testament of the modern movement of poetry as performance and features the work of 108 slam poets who dared to walk the razor's edge'.
Ghosted books by Rosalyn Chissick
The Gift Mia Dolan
ThorsonsElement hardback £12.99/paperback £6.99
Why me?' I said aloud.
There was no answer, so I carried on.
'Why not pick on a nun, or someone really spiritual?'
The answer, when it came, was dry.
'Your guess, he said, 'is as good as mine.'
'I want people to know that there is more to life than what we can see – and it is not as far beyond our reach as we imagine. It
is ordinary, everyday, here and now, in this moment. And it is magical, a gift.'
Mia's World  – Mia Dolan with Rosalyn Chissick
ThorsonsElement hardback £12.99/paperback £6.99/ebook £4.71
'Will you teach me to be psychic?'
'Would I teach her? 'It would take time,' I told her. And you would have to keep an open mind. One of the major keys to unlocking the sixth sense is belief. Belief is a magic word.'
'Belief. Magic. Sixth sense messages. Why was I suddenly considering something so crazy? I was a journalist – I liked concrete facts. But, inside, two bits of me – the stern adult and the excited child – were battling it out. Despite myself, I felt thrilled, tingly. Who doesn't want to believe that magic exists?'
Contact Rosalyn
If you would like to buy a book (autographed copies available on request), please get in contact.